Wi-owner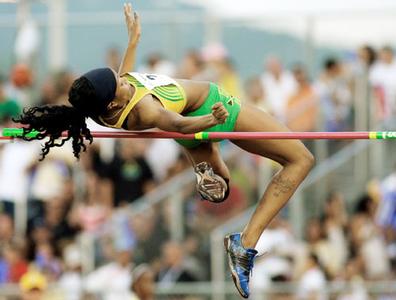 Jamaica's
Sheree Francis competes in the women's high jump of the track and field competition at the Central American & Caribbean Games in Mayaguez, Puerto Rico, yesterday. Francis won the silver medal with a personal-best leap of 1.91m. -AP
Former Alpha Academy and University of Iowa athlete Peaches Roach was the pick of the Jamaicans on show at yesterday's second day of track and field competition at the Central American and Caribbean Games in Mayaguez, Puerto Rico, winning gold in the women's heptathlon.
Roach amassed a personal best 5,780 points at the end of the seven events that make up the discipline, while her compatriot and one-time Wolmer's Girls athlete Tamilee Kerr secured a second podium spot for Jamaica with 5,345 points for the bronze medal. Dominican Republic's Francia Manzanillo was second with 5,561 points, some 219 behind Roach.
Sheree Francis was second in the women's high jump after her best leap of 1.91m was not enough to better St Lucia's Lavern Spence, who cleared 1.94m for the gold medal. Bronze went to Mexico's
Maria Rifka, who achieved the same height as Francis but had one more failed attempt than the Jamaican.
Zara Northover hurled her way to a silver medal and a personal best in the women's shot put with a distance of 17.04m , which was achieved on her third attempt. Trinidad and Tobago's Cleopatra Brown-Borrel walked away with the gold medal with a best throw of 18.76m while her teammate, Annie Alexander, was third with 16.76m.
There was no joy, however, for Clora Williams, who finished outside the podium positions, in fourth, in the women's 400m final. Williams could only manage 53.04 in the event which was won by The Bahamas' Christine Amertil in a season-best 52.16 with Guyana's Aliann Pompey, 52.33, and St Kitts and Nevis' Tiandra Ponteen, 52.75, finishing second and third, respectively.
The Jamaican pair of Ramon Cooper, who despite leaping a personal best of 7.41m, and Kenardo Tyrell, 6.83m, both failed to make any serious mark on the men's long jump final results, finishing eight and 13th, respectively.
Fifteen Jamaicans are down to compete in today's action. Nikiesha Wilson and Nikita Tracey will start in lanes six and seven, respectively, in the women's 400m hurdles finals. Wilson won her semi-final yesterday in 56.98, running from the same lane, while Tracey secured her spot after a third-place run in her semi-final in 58.55.
Roxroy Cato and Leford Green will line up in the men's 400m hurdles final. Both athletes finished second in their semi-finals; Cato posting 50.27 and Green, 50.67.
Other finalists down to compete later today are: O'Dayne Richards, Jason Morgan (men's discus finals), Jabari Elis (pole vault), Kimberly Williams (triple jump), Tamilee Kerr, Kateema Riettie (javelin).
Audria Segree, Rasheed Dwyrer and Steve Slowly will line up in the women's and men's 200m semi-finals, while Ricardo Cunningham and Aldwyn Sappleton will contest the 800m semis.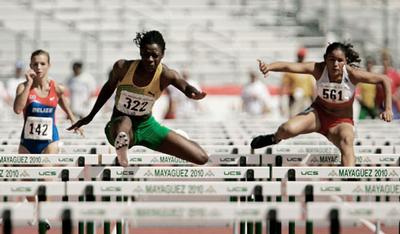 Jamaica's Peaches Roach (centre) and Venezuela's Maria Devia compete in the 100m hurdles of the women's heptathlon of the track and field competition during the Central American and Caribbean Games in Mayaguez, Puerto Rico. Roach won th event in 13.53 and went on to win the Heptathlon with 5,780 points.