Wi-owner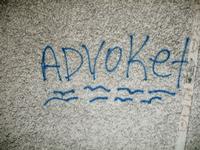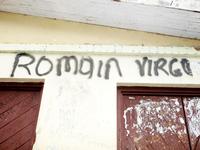 Left: An 'Advoket' graffiti. Right: A graffiti promoting Romain Virgo. - Curtis Campbell photos
When dancehall artiste L.A. Lewis' name started appearing on walls just about anywhere, he was laughed at by many. However, the graffiti tactic has slowly developed into a popular promotional method for aspiring and even established artistes.
If one should drive through Kingston, observing the walls in some of the most active areas, you will see the proof. At a bus stop by Hope Road, Kingston, the name 'Advoket' is plastered on the wall, and beside it rests another graffiti stating: 'Beenieman, the King of Dancehall."
All the way up in the hills of St Ann, THE STAR came upon bus stops bearing 'Gaza' and 'Gully' graffiti, even on a JUTC bus at the transport centre. Then, all along Hagley Park road there is 'Big Ship'.
It would appear that this method of spray-painting is a more effective at advertising artistes these days than the traditional posters, with a picture and contact number.
According to young dancehall artiste Grammazone, who has written his name on a few walls himself, it is cheaper to spray-paint the wall than to print fancy pictures. "Mi always a try get mi self out there, and so mi decide fi try the spray thing," he said.
easier to see
The artiste told THE STAR that the spray paint is easier to see and its more durable than flyers. "If dem nuh knock dung the wall, or paint it over, mi name ago always deh pon it," he said.
The concept of graffiti promotion was popularised by entertainer L.A. Lewis years ago. His name can be found on a large number of walls in the Corporate area. Lewis received numerous criticisms for his actions; however, it appears his promotional tactic have since hit a note with other artistes.
When
THE STAR
contacted Lewis, he said that he should be credited for what he instigated. "L.A. Lewis a di real genius, political parties all a use graffiti because a me. But me gone past that now, a cyberspace mi deh now," he said. "I'm a promotional genius, so even though they act like dem don't amuse by it, they still follow my pattern."
While these artistes are proud of their promotional idea, the police say that they can find themselves in trouble with the law. According to Special Constable Clarence Morrison of the May Pen Police Station, persons can be charged under section 46 of the National Solid Waste Management Act. Morrison explained that people that do these graffiti are in violation by displaying, whether by writing, marking or otherwise affixing anything in any public place, building, wall or fence, to deface it. "Persons are advised to desist from taking up that practice," he warned.
Thanks to: Curtis Campbell, Star Writer