DRAGON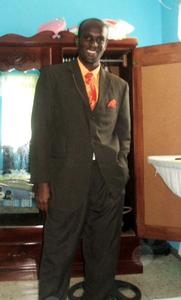 Reverend Keaven Dixon

The congregation of the Riverside New Testament Church in Hanover, are now mourning the death of their pastor, Reverend Keaven Dixon, who was shot and killed at the Hopewell High School yesterday morning.
The pastor, who was 32 years old, was shot as he spoke on his cellular phone outside the school's offices where he went to collect his acceptance letter for a teaching position at the school come September.
The school's principal, Joyce Irving, told THE STAR: "We are very shocked and traumatised by the incident. While no school was in session, the daCosta Cup football team was in training camp behind the school." She added, "We are very disheartened by the incident and our hearts go out to the relatives of Keaven Dixon."
Reports are that the gunman went to the school and demanded to speak with the principal, before pointing a gun at the secretary. She reportedly released the door and allowed him into the office. He then reportedly proceeded to bang loudly on the principal's door, however she raised an alarm and he left.
It is reported that on his way out, the gunman saw Dixon on his phone and shot him in the upper body. He died while being treated at the Cornwall Regional Hospital.
When THE STAR visited the pastor's community of Riverside, the residents all described his death as an unfortunate tragedy. The church has also been forced to cancel its annual rally which was scheduled to begin today. "Jah know, dem kill a good man. Him was a down-to-earth man who got along with everyone in the area, and the person who kill him, fi him conscience nah go make him live long," a Rastafarian said.
Dixon, who is survived by his wife Gayle and son, Jordan, is originally from Cassava Piece, an inner-city community in St Andrew.