Wi-owner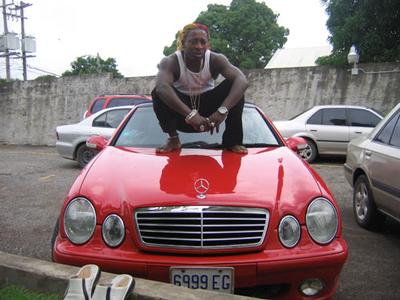 Deejay Elephant Man wants back his Mercedes Benz after what he feels was abuse by the Inland Revenue Department.
Last week, the deejay, born O'Neil Bryan, got a rude awakening when the Special Enforcement team at the Inland Revenue with assistance from the St Andrew police swooped down on his house off Hope Road and seized his red Mercedes Benz. The operation was aimed at seizing assets to settle millions of dollars in unpaid taxes.
When THE STAR spoke to the deejay's lawyer Roderick Gordon yesterday, he explained that his client is adamant about getting back his vehicle. He commented, "Elephant Man wants back his car, he feels he has been abused by the authorities, and used as an example to the entertainment community, he's very upset about it."
According to Gordon, it was "coincidental" that the vehicle was seized last Tuesday, two days before Dancehall Night of Reggae Sumfest, which was held in Montego Bay.
delinquent
Gordon explained that the deejay had made a payment, in the millions, to the Inland Revenue at the end of March, with discussions made for him to continue making payments in the future. In March, the tax department had placed Elephant Man on a list of 50 high profile delinquent taxpayers.
"He feels they are giving people the impression of him being a chronic delinquent which he's not," Gordon stated.
He told THE STAR that the deejay wants his legal team to look into his legal and constitutional rights concerning the matter. He elaborated that the legal team received all the documents from the deejay yesterday, after his slew of recent performances were over, and are now looking forward to proceed to the next step.
While they have not made contact with the Inland Revenue Department as yet, Gordon said they plan to contact them soon. Currently, they are looking into three options which includes a payment for the redemption of his vehicle, a settlement between the deejay and the Inland Revenue or to challenge their position through court proceedings.
Meris Haughton, the director of communications at the tax department, had previously explained to THE STAR that in cases like these, delinquent taxpayers have 10 days to pay off their arrears or the confiscated asset will be auctioned. She said if the proceeds from the auction does not cover the debt, the taxpayer could face criminal or civil charges.
Elephant Man is known for songs such as Sweep and This is How We Do It featuring Bounty Killer.
Published: Thursday, July 29, 2010 [The Star]