Wi-owner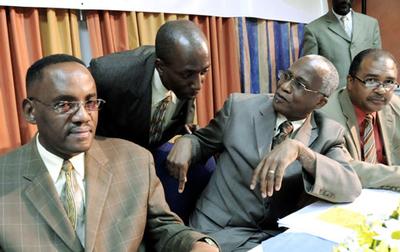 Jamaican churches have coalesced in a mega body geared at changing the island, one heart, school, politician, musician and business at a time.
The organisation, the Jamaica Umbrella Groups of Churches, is coordinating a series of healing and renewal services, visits to every school in the island as well as meetings with business, music and political groups.
Few sectors of society will remain untouched as church leaders make a wholescale attempt to rescue the island from what they say is the destruction that awaits Jamaica if it continues on a path of moral decline.
Leaders from various church associations converged at the Courtleigh Hotel in New Kingston yesterday to announce plans to usher in what was outlined as a programme to facilitate the 'Rebirth of Jamaica'.
The umbrella group, formed by six sub-entities, comprises some of Jamaica's most prominent church associations. The organisation includes the Jamaica Council of Churches, the Jamaica Association of Evangelicals, Jamaica Full Gospel churches, The Jamaica Pentecostal Union Apostolic, The West Indies Conference of Seventh-day Adventists and the Church of God in Jamaica.
The group said it represents roughly 94 per cent of all the churches in the country and cumulatively has the potential to mobilise more than 1.6 million Jamaicans nationally, with Seventh-day Adventists accounting for more than 280,000 of that number and the Church of God in Jamaica, more than 124,000.
The Reverend Lenworth Anglin, convener of the group and executive director of the United Church of Jamaica, said it was time for the unification of Christian denominations.
"Over the years, a number of our ministers' fraternal and local congregations have initiated varying responses to our hurting community," remarked Anglin, explaining that it was time to fine-tune and expand church ministry.
The Reverend Peter Garth, vice-president of the Jamaica Association of Evangelicals, also remarked that this was the first time he had seen the church so close to unification.
"A new wind is blowing; the church is the most powerful entity in this country. Once the church is united, all must tremble."