Swiss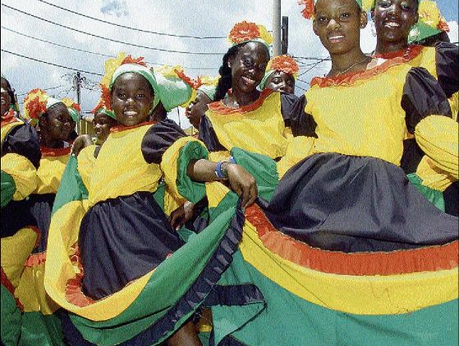 Vintage model cars led the way as the 48th Independence celebration hit the final lap yesterday.
Approaching the traffic lights at Tom Redcam Avenue and Arthur Wint Drive in St Andrew, two engines sputtered as if drawing their last breath, but they stayed the course.
And, in one of the lead cars, the 2010 Jamaica Cultural Development Commission's 2010 Festival Queen, Johnnel Smith, waved in regal style to the clusters of onlookers clad in national colours gathered on the sidewalk.
Costumed groups followed marching bands and stopped both for rest and to entertain. It was a sight to behold. Amid the mostly slender and limber marching-band members, a few rotund youngsters literally burst from their uniform seams with the same amount of pride they took in the task at hand.
At least two fully bearded male 'children' were in the lot!
Whether on foot or seated strategically under sparse shade trees, everyone seemed ready for the day. They carried water bottles, umbrellas and the mandatory Jamaican flags. Vendors, too, were not to be outdone, and everything from liquid refreshment to caps and sunglasses were available for sale.
A national pastime
Many walked along engaged in what has become a national pastime, telling friends at home their exact location or snapping memories on their cellphones.
Some 100 motorcyclists in the parade elicited much excitement from the crowd with their acrobatics, but alas, except for about 10 of them, all helmets were strapped to the backs of the machines.
Meanwhile, with the arrival of each flatbed truckload of Independence revellers, the music got better and louder, but when the Bare Essentials arrived, the crowd joined in with cheers of "Forward!" for the selections.
The marshals kept the marchers refreshed and hydrated with sprays of water and cubes of ice.
Approaching the National Stadium at about 3:55 p.m., women held on to their children as the wind whipped nylon wigs away from their natural hairline.
The venue where the gala was held was finally in sight and they could not wait to enter. More vendors jostled to get into position as security forces and hustling touts vied for the right to instruct motorists where to park.
The parade began at midday at the Ranny Williams Entertainment Centre, Hope Road, and followed a route west along Hope Road to Half-Way Tree Square, south along Half-Way Tree Road, then to Oxford Road and Tom Redcam Avenue before culminating at the Little Theatre.
Published: Saturday August 7, 2010 [The Gleaner]