DRAGON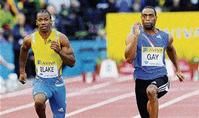 US Tyson Gay (right) wins his 100m heat, ahead of Yohan Blake, during a Diamond League Athletics meeting at Crystal Palace in London yesterday.
RAYMOND GRAHAM, Star Writer
FORMER outstanding St Jago High school sprinter Yohan Blake was Jamaica's best performer on yesterday's opening day of competition at the Diamond League Aviva London Grand Prix meet at Crystal Palace.
Blake posted a personal best of 9.89 seconds to finish second in the men's 100 metres, behind winner Tyson Gay of the United States, who raced to a world- leading time of 9.78 seconds.
Blake, who a few weeks ago posted a personal-best 19.78 seconds to become the country's second-best athlete ever in the half-lap event behind training partner Usain Bolt, continues his rapid improvement this season with another excellent run.
After cruising to second place 10.07 seconds behind Gay in his heat, Blake was very competitive in the final as he battled the American for the majority of the way before Gay pulled away in the final 20 metres. Blake's training partner Mario Forsythe failed to advance to the final after finishing fifth in his heat in 10.28 seconds.
Beijing 100-metre joint silver medallist Sherone Simpson was the only other Jamaican to finish in the top three yesterday. Simpson, who was actually fourth in the women's 200 metres in 23.04 seconds, was promoted to third as the United States' Bianca Knight, who was second in the event, was disqualified for running on the line as Bahamian veteran Debbie Ferguson-McKenzie was awarded second in 22.88, behind winner Allison Felix of the United States. Felix won easily in 22.37 seconds. Jamaica's Kerron Stewart, in her second race in four weeks following an injury, was promoted to fifth after finishing sixth in 23.28 seconds.
advancement to finals
World Championship 100-metre hurdles bronze medallist, Delloreen Ennis-London, the other Jamaican in action yesterday, failed to advance to the finals of her event, as she finished fifth in her heat in 13.00 seconds. The final was won by Canada's Priscilla Lopes-Schliep in 12.52 seconds. Lopes-Schliep turned the tables on Australia's Sally Pearson, who finished second in 12.61 seconds, with the United States' Lolo Jones third in 12.66 seconds.
The meet will come to an end today with several more Jamaicans down to compete. They include Aleen Bailey and Schillone Calvert in the women's 100 metres, Shericka Williams and Novlene Williams-Mills in the women's 400 metres, Kaliese Spencer and Nickeisha Wilson in the women's 400 metres hurdles and Dwight Thomas in the men's 110 metres hurdles. Jermaine Gonzales and Ricardo Chambers will take part in the men's 400 metres.