DRAGON
Curtis Campbell, STAR writer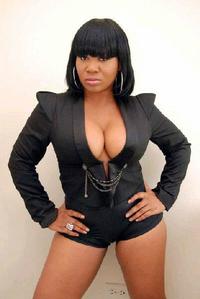 Angelina - file
Young female artiste and businesswoman Angelina is crying foul after photos alleging to be exposing the most personal parts of her body were released on popular social-network site facebook.com last Thursday evening.
The person who is behind the posting of the pictures is unknown to the public, as the profile picture is a decoy, bearing the image of Beyoncé and a name, Kasian Lee.
Messages posted by Lee directly target Angelina, accusing her of being a whore and asking her to desist from speaking to other people's boyfriends.
"Who supports an [expletive] is a bigger [expletive] that is for you and your fake fans Angelina Jones," read part of the post.
Lee also went on to accuse the artiste of getting pregnant for her boyfriend and said she should ensure she did not abort the child. The claims went on with Lee saying the man embroiled in the controversy with the women only wanted sexual favours from Angelina.
The pictures, Lee said, were retrieved from her boyfriends phone and were sent by Angelina.
No face was shown in the pictures and Angelina denies that the images represent her.
A seemingly upset fan or friend of Angelina, who goes under the name Johnson, also commented on the page, telling Lee to show her face.
"Show yuh face and stop hide under Beyoncé you coward," said Johnson. There was no response by the protagonist behind the profile.
THE STAR contacted Angelina, and the artiste had a different story. According to Angelina, the pictures are not her. "The pictures, and what is being said are only allegations with no truth to it," said Angelina. According to the artiste, some people were just having personal problems and were seeking to bring her down with them.
"I have never had an altercation with anybody over a man. Maybe some people just want to be seen," She told THE STAR.
The artiste also said she had been getting calls locally and overseas from people complaining about the matter.
"Even my boyfriend called and said he saw the pictures, but he says that he trusts me and we are good," Angelina explained.
Angelina, the owner of the Fashionista store at Portmore Town Centre plaza, says that she will not let people get her down and she will continue to be strong and successful.
"My fans should look out for my songs and just be there for me through all of this negative energy," she said.
Angelina's last major performance was Sting 2009. She is currently working with Seanizzle, Clive Hunt and Birch.
The claims went on with Lee
saying the man embroiled in the controversy with the women
only wanted sexual favours
from Angelina.