DRAGON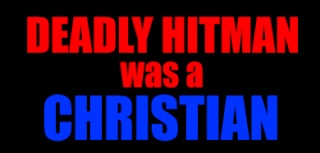 He was fingered in at least 30 murders committed in St James alone, and his name was among the island's 10 most wanted criminals in excess of five years, as a result it comes as a bit of surprise that at one point in his life, deceased gang boss Cedric 'Doggie' Murray was a Christian.
Following his demise on Friday THE STAR made contacts with several gangsters from a number of communities in the Corporate Area, St Catherine and St James, who all admitted to knowing the contract killer who gained their highest respects, and who they say was a product of unfortunate circumstances.
According to them, Doggie regularly spoke of his younger days during which he claimed to have devoted seven years of his life to God and was an active church member.
They further told THE STAR that he also claimed to losing his way with God after his mother was brutally murdered by gunmen.
Murray was cut down last Thursday during a daring gun duel with policemen on Manchester-Clarendon border.
true 'warrior'
Members of the chilling criminal underworld, those who knew Murray best, described him a true 'warrior' who took no nonsense but was surprisingly a 'people person'.
"Nuh matter who yuh be, people ago always have this and that fi seh bout yu, but mi naw lie if yu did see dem man deh a road yu probly wudn't guess seh him a real killa," one thug from Tivoli Gardens, west Kingston said.
At the time of his death Murray was said to be travelling with a diary which detailed his admiration for former west Kingston strongman and alleged crime boss Christopher 'Dudus' Coke, for whom he is said to have fought during the May 24 military incursion into Tivoli Gardens.
"Is a yute weh love reason bout life, him will just sit down and just start chat bout fi him life and life pon a whole ... A whole heap a time him deh yah and tell wi how him was a true Christian fi how much years before dem murder him madda inna MoBay," another known gangster also from the community added.
His associates from the infamous Stone Crusher gang for which he was the reputed top lieutenant had similar claims about Murray. They described him as a fearless leader who was also like a father figure to them.
jus' circumstances
"Is a man weh have a caring side to him eno ... Him always tell wi seh him was a Christian so it look like dem ways deh cement inna him and wi always see it even though is a man weh nuh tek foolishness," one man from the gang said. "A jus' circumstances mek dem man deh tek up badness still eno, a supn' weh him talk nuff time ... Is a man weh neva fraid fi seh a casue dem kill him madda mek him change and start kill people."
Meanwhile, several police sources from the second city admitted to hearing the tale of Murray once being a Christian. They were, however, quick to say that the murder of his mother was by no means no excuse for him to become the 'monster' he was.
"Personally it is something I heard but I was never interested in that argument ... Two wrongs don't make one right so there is no way I can say I see the reason why he became such a monster," one high-ranking officer from St James said yesterday.
Despite several police dragnets and even a $1 million bounty, Murray who was described by the police as 'slippery' eluded the police for a number of years.
Among others, Murray, who turned 37 on the day of his death, was fingered in the February 2006 execution style murders of brothers Fenel and Derrick Taylor, and a young woman at Blood Lane in Glendevon, St James.
scrolling="no" frameborder="0"
style="border:none; width:450px; height:80px">