Wi-owner
Curtis Campbell, Star Writer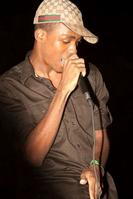 Chedda
Spoof has finally made its way into mainstream Dancehall. The concept which has been prominent in the hip-hop industry for some time now, has caught the eye of dancehall fans.
For those wondering what is spoof, this is the effort of artistes to re-record hit songs using a similar rhythm and pattern to the original. However, the message is usually different and sometimes appealing to one's sense of humour.
The concept has been used by comedic icons Apache Chief and Sarge in their performance gimmicks. However, since the release of Trevor Off Key's Fake Jeans Admit It, featuring young artiste Chedda the concept has captured a new audience.
Chedda, who has been trying to make his way in the music industry
for quite some time now, expressed that life is unpredictable, because the song that he thought was just a joke ended up giving him the most recognition.
"Me and my friends were chilling and the phone ring and a the Kartel song a play, suh me as a man weh always a mek trouble, the idea come to mi and wi start medz it, till mi seh mi need Bambino and mi sing it fi him and him love it and wi shot it," he told THE STAR.
having fun
Trevor Off Key aka Bambino
According to Chedda, the music needs a little fun sometimes and spoof music brings that out. "People make it seem like is just violence and girls that dancehall is about. No, it's about people having fun with music," he said.
When contacted, Trevor off Key, who has done spoofs like Butter pan yu Bread and To The Right, said, "I try to sing something different in my spoofs though, the story must have some humour to it so people will take on to it," he said.
The artiste says since releasing Fake Jeans Admit It, his popularity in spoofing has grown.
"I have been getting a lot of calls from people wanting dub plates," Trevor Off Key said. He also pointed out that though the song is a remake, the original artistes are not upset hearing their songs spoofed.
"When Kartel heard the song for the first time he just laughed because he found it funny. Once you do the song, and it's not disrespectful to the work of the original artiste then it shouldn't pose a problem. In fact, it makes the original song more popular," he said. Trevor Off Key, who is also a radio Dj, says he recently produced a rhythm called Caribbean Girl featuring a host of local artistes, on which he has a song called You.
"We recently shot the video for Fake Jeans Admit It, with me and Chedda you can look out for that," he told THE STAR.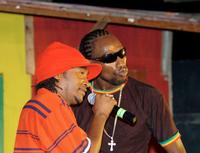 Apache Chief (left) and Sarge doing their famous imitation of Bounty Killer. - File photos