Wi-owner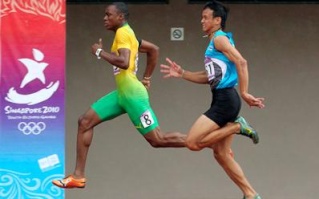 Odane Skeen of Jamaica (left) and Jirapong Meenapra of Thailand compete in the boys' 100 metres at the Youth Olympics yesterday. - AP
WHAT Usain Bolt did at the 2008 Beijing Olympics, Odane Skeen is keen to emulate at the Youth Olympics Games (YOG).
The 15-year-old is one of the new sprint sensations to emerge from Jamaica. And just as triple-gold medallist Bolt electrified the world two years ago, Skeen is hoping that he, too, will make a big impact.
"I will definitely be the one to beat," said the St Catherine native, whose personal best (PB) of 10.46 seconds in the 100m, makes him one of the favourites for the title of fastest youth Olympian at the inaugural YOG.
The six-day athletics competition, involving 646 competitors from 170 National Olympic Committees, will offer 36 gold medals, the most at the YOG. But none of the showdowns will be as keenly anticipated as the one for the boys' 100m title.
And in true Bolt fashion, Skeen was sure of his own winning pedigree even after it was pointed out that Britain's David Bolarinwa, 16, boasts a faster PB of 10.39 seconds.
"He did what?" the Jamaican asked. But recovering as quickly as one of his explosive starts, he promised: "It doesn't change anything, I'm still going to win."
Added his coach David Riley: "We expect to win medals and the kids are not going to be intimidated."
The Jamaicans are also expected to be contenders in the 110m hurdles with Stefan Fennell, 16, displaying plenty of his teammates confidence. Fennell finished second in heat three of the boys 110m hurdles, in a time of 13.89, which was good enough to book him a place in Saturday's final.
"I've been saving myself for the competition here," he said.