Wi-owner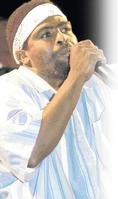 Risto Benj
❒ Men attack and beat him
Rasbert Turner, Star Writer
An entertainer, who was caught by an angry mob as he allegedly attempted to steal a motorcycle, was soundly beaten and handed over to the New Kingston police yesterday.
He is Michael Benjamin, popularly known as deejay 'Risto Benji', 37-year -old of Spanish Town, St Catherine.
Reports reaching THE STAR are that about 4 p.m., the former top-flight entertainer went to the New Kingston Shopping Centre. He is said to have attempted to steal a Honda Nighthawk motorcycle that was parked there. He was reportedly caught by the alert owner who sounded an alarm.
"Yes, mi boss! Ah from Wednesday we a watch dem 'cause we observe dem 'bout de place. Dat is why we haffi brush him up when we hol' him. A di police dem save him,'' one bike messenger told THE STAR.
The disgruntled messengers said that they were frustrated as the theft of motorcycles in the New Kingston area had increased in recent times.
''Is earlier dem tief mi bethren bike, right up de so," a male bystander said while pointing along Knutsford Boulevard. " It hurt wi very much, so we not playing wid none a dem.''
When contacted, an inspector at the New Kingston Police Post said the entertainer was in their custody and further investigations are being conducted.
Two years ago the entertainer who is known for songs like Don't Press Button, Don't Pirate It and Gimme De Money was also accused of being involved in the robbery of a woman in Spanish Town, St Catherine.
He was charged with robbery with aggravation and is currently before the Spanish Town Resident Magistrate's Court on that matter.