DRAGON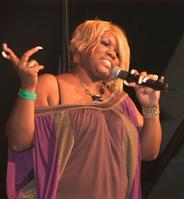 Miss Kitty - File
Popular media personality Miss Kitty says she is not involved in any scams
surrounding Digicel's 'Jus Buss' summer promotion.
According to Kitty, whose real name is Khadine Hylton, scammers have been calling persons impersonating her and asking them to send money to them via Western Union.
While Miss Kitty has been involved in a number of Digicel promotions, she says it is not her job to be calling people. She told THE STAR, "I am not involved in the Jus Buss promotion, I am not suppose to be calling anyone and notifying them about their winning."
via friends
Digicel launched its 'Jus Buss' summer promotion on July 2 it ended August 26. Through the promotion, Digicel users had the chance to win up to $100,000 as well as a Samsung S5230 handset.
According to Miss Kitty, she was first notified about the scam a month ago by friends who had heard about it, as well as calls made to RJR. "I have a friend who called me from Western Union, who said there was a man there ready to send off $12,000," she said.
She added, "there are a lot of nasty people out there, and I'd appreciate if they would stop. It's unfair and heartless for people to send off money they worked so hard for. And some people must be more logical. If you have a doubt about summen, call customer care, call 100 and ask questions. Digicel is a credible telecom provider, there is no way they would ask you to send money to win money."
In the meantime, Miss Kitty has been busy working on her show, 'Ruption', on RJR and said that it has been doing well. She said she is looking for bigger and better things for the future and may look to perform in plays, among other things.


[Art is science made clear.]