Wi-owner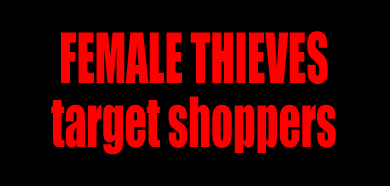 The police say they are concerned about an increasing trend by which female thieves are said to be robbing unsuspecting shoppers in downtown Kingston by cutting their bags.
Checks with people in and around the busy commercial district, as well as with the police, have found that shoppers are being targeted by crafty women who take off with the loot before their victims can garner any idea as to who may be responsible.
"There is a current trend where women are becoming involved in criminal activities, especially theft within the business district. Statistics have shown that 90 per cent of persons doing "hustling" activities are females," top cop at the City Centre Police Station, Inspector Percival Buddan, told THE STAR yesterday.
no pity
While walking through sections of downtown yesterday, buyers and sellers alike expressed the fear of these female thieves, who they claim have no pity of anyone, whether male or female.
"Dem a cut everybody bag, a pure a dat dem a gwaan wid. Man, woman and even pickney, once yu have bag a walk wid and yu naw pay attention, dem just do dem thing and gone," one vendor who plies her wares along Orange Street said.
"A weekend gone mi see dem mek a likkle girl si dung and a bawl living eye water cause one a dem cut her bag and tek bout $20,000 from her weh she did fi use get her back-to-school things dem," she further told THE STAR.
A few metres down the street, another vendor also spoke of the same incident, while one female shopper was quick to brandish a knife, which she promised to use and inflict deadly wounds if she came across any of these 'bag cutters', of whom she says she has become extremely cautious.
"Mi have friend weh dem rob so too eno, a whole heap a people mi hear bout weh dem cut dem bag and tek all a dem money ... Mi well waa one a dem try my bag yu si, mi have a surprise fi dem," the woman who gave her name as Brandy from a east Kingston community said.
difficult to catch
According to Inspector Buddan, the women involved in the artful act are difficult to catch as the persons they rob always realise only after their bags have been cut and the culprit runs away.
"It is an increasing trend we are paying particular attention to especially with only a few days left before the new school term begins. It is not so easy to pick up on because shoppers are focused on making their orders ... The women do it by easily slashing the outside of their victims bags, leaving the contents exposed," Buddan explained.
As a result, Buddan told THE STAR that the police have devised an advisory programme by which they drive around and announce some safety advisories.
Among these safety tips are:
1. Try and avoid crowded areas.
2. Avoid travelling with large sums of cash
3. Travel in groups.