DRAGON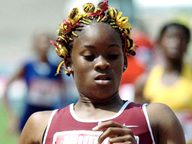 Bobby-Gaye Wilkins
Almost six months after testing positive for performance-enhancement substances, quarter-miler Bobby-Gaye Wilkins has officially been slapped with a two-year ban by local regulators, the Jamaica Amateur Athletic Association (JAAA).
Wilkins, who according to doping officials was found to have an 'adverse analytical finding' in relation to samples collected at the World Indoor Championships held in Doha, Qatar in March of this year, will now be barred from competing at all competitions until April 9, 2012.
Wilkins, 22, was part of Jamaica's bronze medal-winning 4x400m relay team at the championships, which also included Clora Williams, Davita Prendergast and Novlene Williams-Mills. The team returned a national record time of 3:28.46 but could be stripped of the medal in the wake of this finding.
The former Holmwood Technical athlete tested positive for the selective androgen receptor modulator (SARM) andranine, which is listed by the World Anti-Doping Agency as an anabolic agent. Her 'B' sample also returned positive.
It should also be noted the JAAA's hearing panel which was chaired by Dr Marion Bullock-Ducasse and also features Dr Guyan Arscott, Dr Carl Bruce and Mrs Alveta Knight, ruled that there were no exceptional and/or special circumstances surrounding the usage of the substance and that the violation has occurred as stated in the International Association of Athletics Federations (IAAF) Rule 32.2 (a).
Rule 32.2 (a) refers to an athlete's responsibility where "a prohibited substance or its metabolites or markers in the athlete's A sample where the athlete waives analysis of the B sample and the B sample is not analysed; or, where the athlete's B sample is analysed and the analysis of the Athlete's B sample confirms the presence of the prohibited substance or its metabolites or markers found in the athlete's A sample."
While Wilkins will be able to appeal the decision to the Court of Arbitration for Sports, it's not clear if she will be doing so.
The athlete finished fifth in the semi-finals of the women's 400m at the Doha meet with a time of 52.59 and was also a finalist in the same event at the 2005 World Youth Champion-ships in Marrakech, Morocco.
In 2009, six Jamaicans returned adverse analytical findings for banned substances at the National Trials ahead of the World Championships in Athletics in Berlin, Germany.
Source: Jamaica star


[Art is science made clear.]